How to Protect Your Business Website From Blacklisting
The number of websites blacklisted by search engines such as Google and Bing is staggering (we're talking thousands per day!), and If you're a business owner having downtime on your website can be costly and harmful to your company.
When a site is blacklisted, an error message is displayed informing your visitors that this website may be harmful to your computer or mobile device. Not a good look for any organisation.
We've dived deeper into what causes blacklisting and how you can protect yourself against it…
What is Blacklisting?
To put it simply, website blacklisting is a process of warning and blocking internet users from accessing a potentially threating website. Below is an example of what you can expect to find when attempting to view a blacklisted website: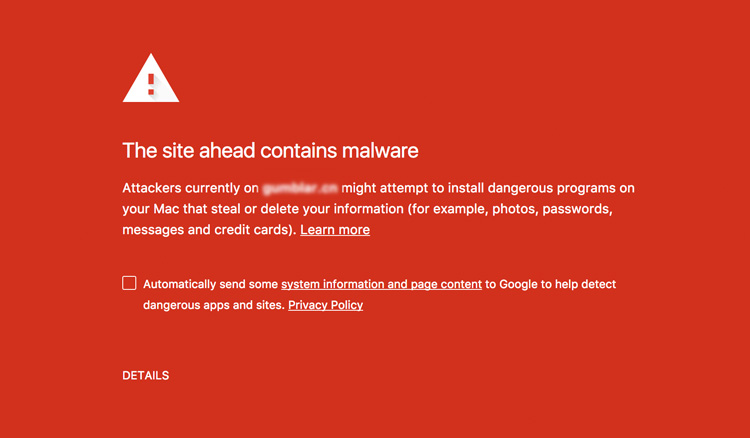 You can test your website/domain on a blacklist check here.
But Why Do Websites Get Blacklisted?
A website can be blacklisted for many reasons. The most common causes include the detections viruses, malware, ransomware, spam unwanted ads, redirect behaviour and phishing. The companies that maintain these backlists (Google, Bing, BitDefender, ESET and Norton just to name a few) are constantly crawling the web looking for sites that have been compromised. If they uncover a deceptive website, they add it to their blacklist.
Once your website is reported as being blacklisted, it is important to act quickly to resolve the issues. Leaving your site in this state can be harmful your organisation's online reputation long term.
Fun Fact: Did you know that over 30,000 websites get hacked every day?
How Do I Know If My Website Has Been Blacklisted?
We recommend that at least once a month, you perform a blacklist check on your domain or IP address. To make life easier, our Automated Website Backup Solution integrates with Google's Safe Browsing. This means that customers running this service are automatically notified when Google has determined that their website contains suspected malware or phishing code and is therefore deemed "not safe for browsing".
How Do I Remove My Website From a Blacklist?
Once you've confirmed that your website has been blacklisted, you'll want to begin to debug your website's content, code and database of any malicious code. This is often performed by your website developer or IT Manager and can take several days to complete). For customers using our Website Backup Solution, this process is much simpler as they are able to bring their websites back online within minutes. This service halts further backups from taking place once a blacklist has been detected allowing users to select and restore a clean version of their website from before the malware was injected.
When you have been able to successfully restore your website to a safe state, you will need to reach out to the blacklist monitoring companies and ask them to remove your website from their blacklist.
How Do I Prevent My Website From Being Blacklisted?
Unfortunately, there is no guarantee that your website is 100% secure and free of this threat. Malware is ever changing and adapting to security plugins and software. However, there are a number of practices you should implement to best prevent this from happening to you. We've included some pro tips below:
Ensure everything from your Website's CMS platform and plugins to scripts are regularly updated
Understand what makes a secure password – Yours might not be as secure as you think (we recommend using a mix of lower & uppercase letters, numbers and symbols eg. OzH0st1ngR0cks!)
Ensure your website is running an SSL, we can also assist with this!
When selecting plugins and themes for your website, choose carefully and ensure they are from trusted sources
Backup, Backup, BACKUP! This needs to be done regularly a stored on a different server to your site. Ask our team about our Automated Website Backup Solution
You might also like: Backing Up Your Business – A Guide To Best Practises